Deaf Children Australia's DHH mentors support young people who are DHH to build self-esteem and support social inclusion.
We have improved the way we deliver our services, with the launch of DCA Plus. All DCA services will now be delivered by the DCA Plus team. The high level of service remains. We have grown the DCA Plus team so it can help more people build self-esteem, support social inclusion, gain confidence to achieve their goals and manage wellbeing.
There will be no changes to how we deliver the services you need. Through the following services we aim to support better educational outcomes and employment opportunities:
Support Coordination
Mentors
Travel training
Getting job ready
Staying in work
Ready Set Drive
DCA's one-day ultimate driver education and training program is for DHH people wanting to practice car driving, learn basic car maintenance and learn about road and safety rules. To be held in April 2021, during the school holidays. Register your interest now!
We have grants of up to $2,500, let us know about your goals. Applications open March 2021.
Looking for your first or a new job? Sign for Work is our disability employment service dedicated to finding you work and keeping you in work. Get in touch an build your career.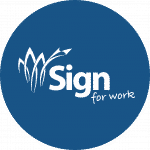 Participate in our Art Competition and win up to $1,000 for showcasing your talents. Share the story of a hero or leader who has inspired you.