Davie's Story
Earshot, produced by photographer Kate Disher-Quill, features photos of deaf or hard of hearing people.
In a previous interview Kate explained the motivation for the project:
"Three years ago, I read this article about a girl who was deaf and she wrote about her experiences growing up and what it was like always being left out, missing punchlines in jokes and it felt like I was reading about myself." "It made me think that if I could provide that same link that the article gave me and what it did to me, I wanted to be able to do that for other people and so that's why I created the project." Read more here.
Earshot includes photos and stories of several deaf and hard of hearing children and young people Deaf Children Australia is connected to, including five year old Davie.
Davie's mum, Carol Webb, is a DCA Board member for Deaf Children Australia. She and her husband Henry Livingstone shared their story published in Earshot with us.
"At birth we were told Davie had a hearing loss, and in our minds all we could think about was 'Oh my gosh he is deaf, will he ever hear music, will he be able sing, will he hear what is going on at family events, how will he make friends, do we need to learn sign language?' Davie was born with a rare genetic syndrome called Treacher Collins Syndrome. He does not have fully formed ears and he has severe hearing loss. He has conductive hearing loss and requires a bone conduction hearing device (BAHA). He is too young for the device to be implanted so he has to wear them on a headband. He received his first hearing aids when he was 12 weeks old and will need ongoing surgeries due to his cranial facial and respiratory challenges. When he is older he can have the BAHA implanted.
Communication is such an important thing in life. I think we sometimes can take this for granted. We decided to learn baby sign and Auslan when Davie was very young. We did not know if he could learn to speak so we opted for both Auditory-verbal therapy and the use of sign language. He learnt to sign to us first in Auslan which we were thrilled about and later he learnt to speak. It was fantastic being able to communicate with him in Auslan. He now prefers to speak and does not use as much sign but it comes in handy at the pool and when his hearing aids don't work. At first his deafness was more of a shock than his Treacher Collins syndrome diagnosis. We struggled a little but soon channeled our energies into learning how to best communicate and ensure that our little boy was happy and healthy.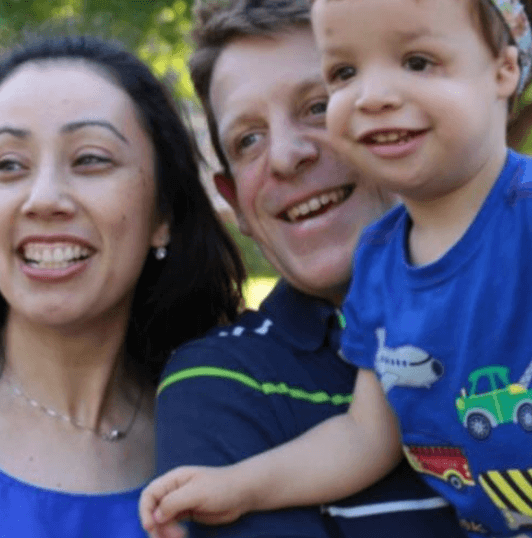 Davie is a determined, friendly and happy preschooler who loves trains, sport and his family and friends, and he does not see his deafness as a big deal. He does know that he is different because he has asked us 'why don't the other children wear hearing aids?' He knows he can't be outside in the rain (as the hearing aids are not waterproof) and sometimes when the hearing aids do not work he gets frustrated when he can't hear us.
We have not let Davie's deafness stop him from participating in everyday life activities. All the children and educators at his kindergarten have been welcoming and supportive and Davie has been happy there. Seeing Davie enjoy his YMCA swimming lessons at the Ashburton pool is a proud moment. As he cannot wear his hearing aids in the water he can't hear a thing yet he has slowly managed to build his skills and confidence in the water. In these moments we (including his instructors) use sign language so it really is wonderful to have both languages.
There are many challenges for parents and some of these include learning how the health system works and knowing what range of medical and speech services can help your child. Educating your community and playing an advocacy role is important. Connecting with other parents who have deaf children always helps as you can share advice and tips. Each year there is something to learn and work out. For example, recently we couldn't find a helmet that would fit over his hearing aids but we got there in the end and now he can ride his scooter around with his helmet just like any other kid. The support provided by a range of services for deaf and hard of hearing children has made a huge impact on Davie's abilities, confidence and growth. His speech pathologists have been amazing. The following organisations: Taralye/RIDBC, Hear and Say and Deaf Children Australia have all contributed in many ways to give Davie the best chance possible to be happy, healthy and most importantly, to be part of the community. Davie starts school in 2019 at will attend Mount View Primary where they have a fantastic facility that supports students with a hearing impairment.
Some people stare at Davie when we go shopping because of his facial features or they stare because they have never seen bone conduction hearing aids before. We understand the curiosity that people may have so we encourage Davie to introduce himself and explain that the 'little grey boxes' on his head are actually hearing aids. Davie has a wonderful support network of close family and friends who love him. We have all learnt a lot on this journey regarding deafness. We like to stay positive and do things that every 'normal' child does. It turns out that he can hear music, he can sing and he can make friends. It's important that Davie is supported and to know that he is loved, no matter what. He has taught us more than we can imagine and we wouldn't change a thing"